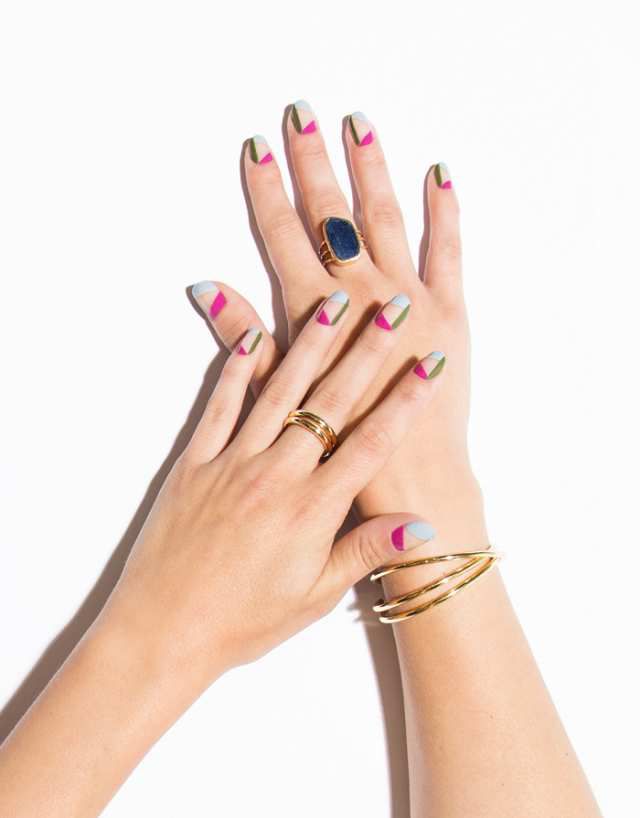 As evidenced on Who What Wear, the geometric prints and bright colors were huge on the S/S 16 runways, and they translate easily into a fun manicure for summer. With contrasting colors in clean shapes that create negative space in the middle, this nail look meshes flawlessly with a well-deserved margarita on a Friday afternoon.
Below, you'll find the steps needed to re-create the manicure, complete with a demonstrative GIF. Pro tip: Don't worry about getting polish all over your cuticles when painting on the lacquer; a small makeup brush and acetone will clean up any mess. Focus on making straight lines when creating the design, which is easy with OPI's new Infinite Shine collection, which features brushes built for precision and detailing. Plus, the base coat, color, and topcoat give you gel-like shine and lasting power without the UV light, but you can still easily remove the lacquer at home with nail polish remover.
Keep scrolling for a step-by-step GIF and instructions on how to get the look.
How to:
1. Start by wiping nails clean with acetone to remove dust or oil.
2. Paint one coat of opi infinite shine primer on each nail.
3. Paint two thin coats of opi infinite shine lacquer in Don't Provoke the Plum near the base of the nail to create a reverse half moon shape.
4. Paint two think coats of opi infinite shine lacquer in reach for the sky near the tip of the nail.
5. Paint two thin coats of opi infinite shine lacquer in olive for green near the side of the nail, completing the negative-space triangle.
6. While the polish dries, clean any excess polish off of the cuticle area with a small eye shadow brush dipped in aceton.
7. Paint one coat of opi infinite shine gloss. Finish with cuticle oil on the skin surrounding the nails if desired.