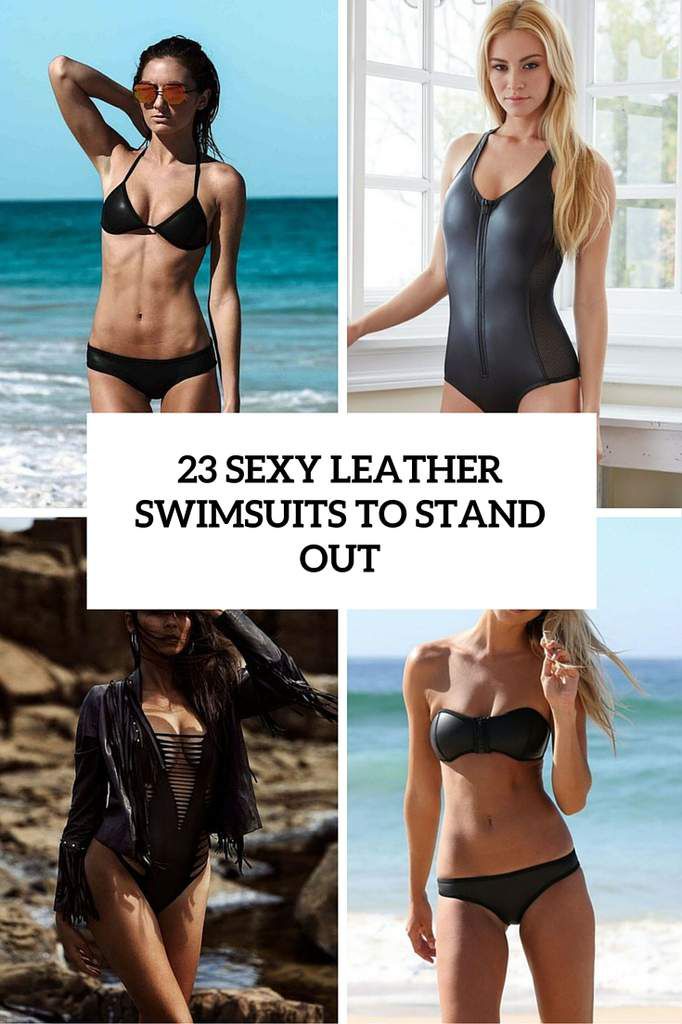 It's summer now, the time of vacations and beaches, and I'm sure that every girl has already prepared a whole bunch of swimsuits according to the hottest trends of this year. I have one more hot trend for you to get inspired, and these are leather swimsuits! This isn't a typical fabric for womens bathing suits but believe me, there's nothing hotter than leather! Many designers proved that with their latest beachwear collections. This swimwear is ready to make jaws drop and hearts beat faster, it's edgy, sexy and dramatic. It comes in all types – monokinis, bikinis, mini bikinis, with zippers, sheer additions, bold tops, color blocking and other cool details.
Sporty Leather Swimsuits
Are you an active girl who doesn't like lying in the sun for hours? You can find sporty black leather one piece swimsuits for women that remind those of neoprene but they are much more breathable, that is perfect for diving, surfing or any other beach activities. Most of them come with zippers for comfortable wearing, and that leather texture looks much cooler than neoprene, so look for some awesome options.
1. one piece leather zipper swimsuit
2. leather one piece swimsuit
3. black leather monokini
4. leather zip monokini
Hot Leather Bikinis for Women
A simple black leather bikini may wake up your inner shellbomb, though it seems so usual, it looks very eye-catchy due to the texture. Feeling daring today? Try a dominatrix-inspired bikini look. You will stand out on every beach and guys won't be able to take their eyes off you!
5. black leather bikini
6. simple black leather bikini
7. simple leather strapless bikini
8. strapless leather swimwear
Leather One-Piece Swimsuits
A leather one-piece is a cool idea for any pool party if you want to be original and look not like everybody else. A strappy cut out one piece swimsuits won't let you leave unnoticed at any pool party, and a slashed black leather one piece will drive everybody crazy. A bandage-inspired leather swimsuit is a very seductive option if you are ready to show off some skin. There are faux leather options for those who don't want natural colors – bold metallic ones, color block or just leather-imitating but be aware that faux leather isn't as breathable as natural.
9. color block leather swimsuit
10. faux leather high waist swimsuit
11. leather top swim piece
12. metallic red faux leather swimsuit
13. metallic zip monokini
14. wet look fuchsia leather swimsuit
Keep in mind that such a daring and dramatic swimsuit may require a perfect body to feel confidence wearing it, so get ready with your workouts and be sexiest girl on the beach!