One of the best parts of my job is beauty trend-spotting. I love seeing what's new and awesome in the world of makeup, and there's no better place to spot the fanciest, most extreme trends than on Instagram.

Whether it's hardcore contour, dramatic eyes or brows on fleek, Instagram is definitely the place to spot the fanciest, most ridiculously glam makeup trends as they take off. It's beauty democracy in action. And lately, the look du jour is the over-the-top lip.

But simply overdrawing a Kylie Jenner-esque shape is no longer enough--lips in 2015 are getting NUTS. I took three of the wildest examples for a test drive to see how these Instagram trends actually work in real life.


1. The Winged Lip

I first saw this on Obsessive Compulsive Cosmetics' feed, and I couldn't put my finger on what was so different about the shape. After a few confused minutes I realized, Oh wait, the upper lip line flicks out and up like a cat-eye!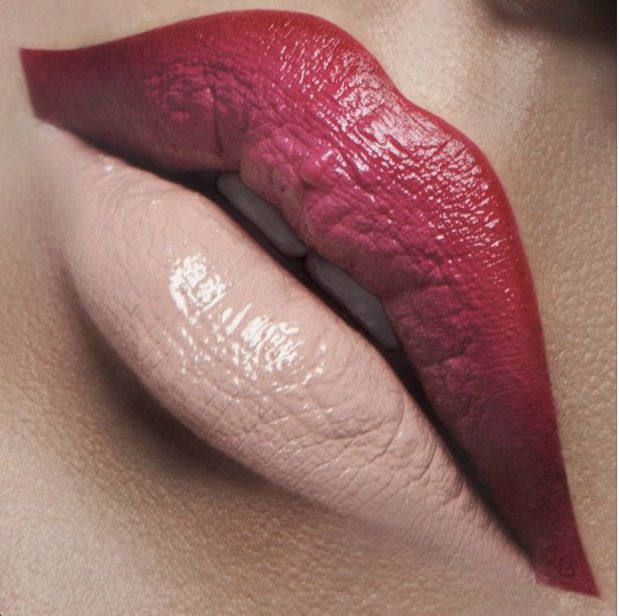 This picture was like an electric shock. In a world where most beauty trends recycle from year to year, this actually felt NEW. Sure, it's a bit wacky, but I was still stoked to try it!

Starting at my Cupid's bow, I used a dark pink lip liner (freshly sharpened) to trace each side of my upper lip. Instead of following the line at the outer corners, though, I extended it out and attached it to the corner of my mouth with an angled line--think a hollow cat-eye shape.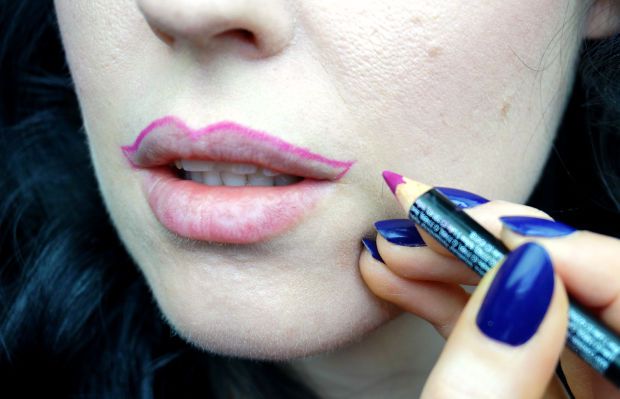 The OCC photo leaves the lower lip beige, but I wanted to see how this would look in the context of a full look. I traced the shape of my lower lip with the liner, making sure to join it up with the exaggerated outer corners.

I filled it in with dark pink lipstick, a shade I'm used to seeing on myself, and my winged lip look was complete.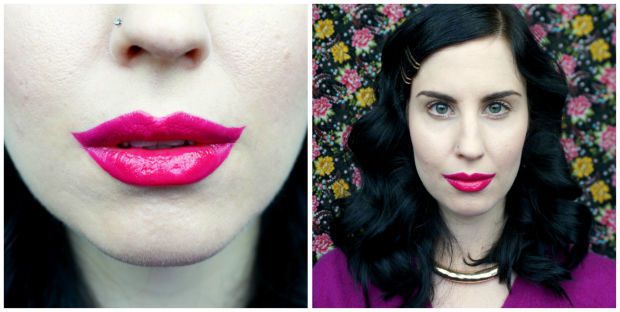 In photos, this looks a bit exaggerated, but not crazy. In real life, I looked like Jack Nicholson as The Joker. No matter what my actual face was doing, my mouth couldn't stop smiling. It was eerie as hell.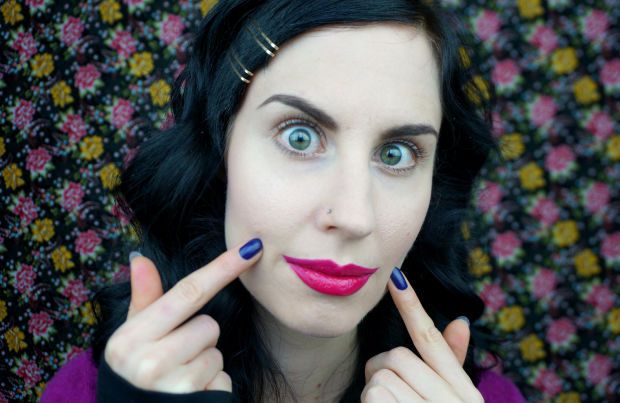 I love lip shapes that change the proportions of my face, but I'm not sure I'm ready to Love That Joker 24/7. This was an interesting experiment, but it's a hard pass for anything but pictures.
2. The Two-Toned Lip

When it comes to top and bottom lips in contrasting colors, the beauty world is just now picking up what Twiggy put down in the sixties (as Wendy pointed out earlier this week).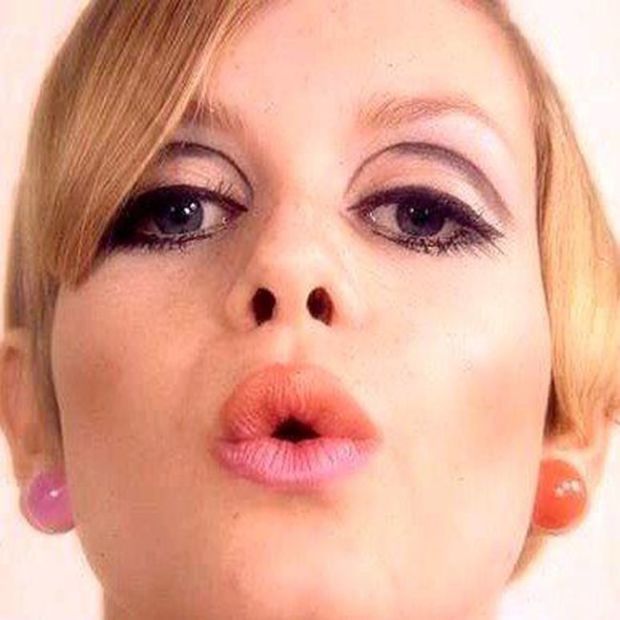 But this look is definitely catching fire on Instagram. I'm seeing a lot of black worn with red and intense purple, but also a lot of spring pastels worn together. Hey, we gotta bust ourselves out of this winter slump SOMEHOW.

I chose Maybelline ColorSensational Vivids Lipstick in Pink Pop for my top lip and Vibrant Mandarin for my lower lip. These intense shades are bright enough to work well together, but are different enough to give me the contrast that I want.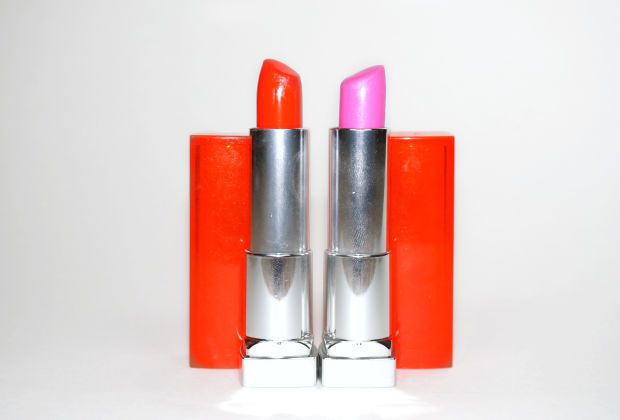 I applied both colors directly onto my lips straight from the bullet, then used a lip brush to neaten the line. Gotta have perfect execution if you're going for a dramatic style!

The finished look was fun, if not terribly practical.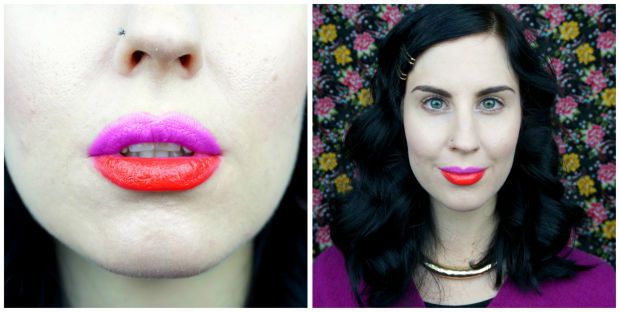 The two colors looked pretty, but it's more of an editorial look. The colors mix together really easily, so wearing this while living your life means that you're committed to A LOT of touch-ups.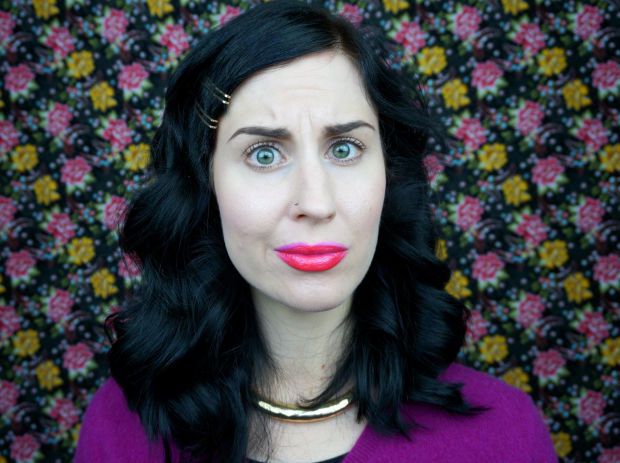 Though it looks great in pictures, the maintenance makes it a pass for me. I'm gonna leave this one in my selfies for sure.


3. The Rhinestone Lip

I've seen photos of bedazzled lips for years now, and I've always been like "Who DOES this?" J.Lo, for one and every MUA on instagram, for another.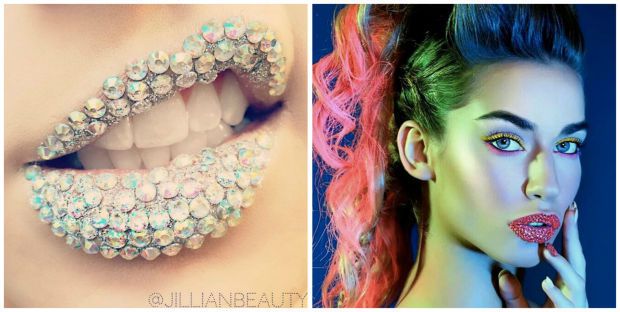 This is straight-up INSANE. I love everything glittery, so of course I had to give it a try!

I bought a couple packets of red rhinestones from the craft store, because my dream is to be Jessica Rabbit. These are a combination of 3.5 and 4mm stones because they'd be small enough to make a clean line around my lips, but not SO small that they'd take a million years to apply.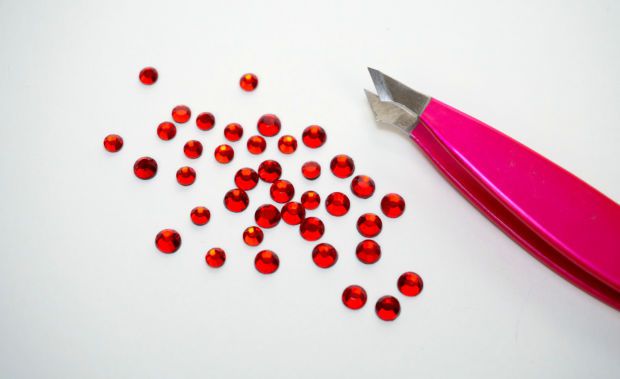 I began by painting my lips a scarlet red similar to the rhinestones--this is NARS Velvet Matte Lip Pencil in Cruella. The matte finish provided a richly colored base for what comes next.

In trials, I tried to get these to adhere these to just my lipstick, but not even the gooiest lip gloss was powerful enough to stick these crystals on my mouth. Instead I dotted eyelash glue straight onto my lip, then used tweezers to position the crystals.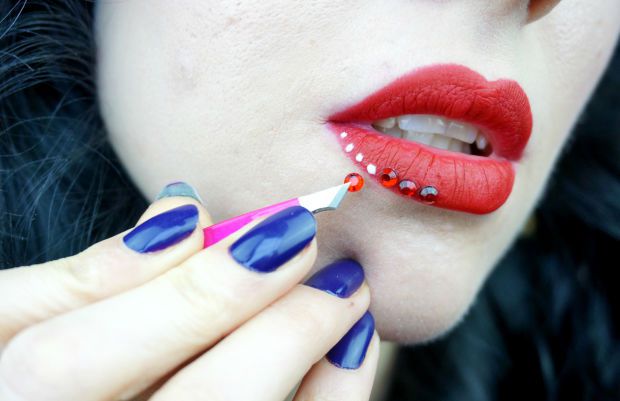 I won't lie: This took about 45 minutes. It is VERY labor-intensive; the glue feels dry and itchy, and the crystals are heavy. But, you guys, the finished results are glorious!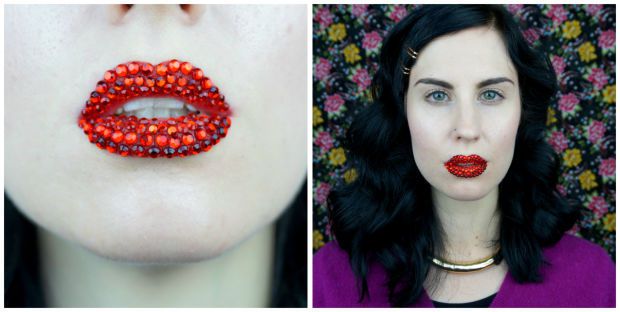 So sparkly! So beautiful! I'm in love. I mean, I can't eat anything without swallowing half the Swarovski factory and I can't really talk, but both of those things are totally overrated compared to the gorgeousness of RHINESTONE LIPS!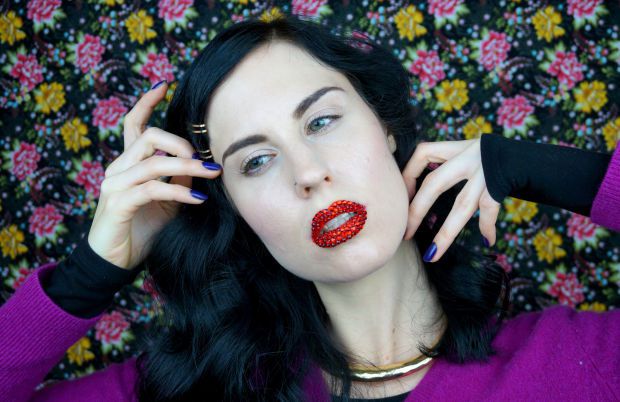 I want to wear this every day, in every color. My heart breaks at how impractical that would be.

So even though none of these looks are super practical for real life, they sure do photograph beautifully. If you're looking to step up your selfie game in 2015, this is definitely a good place to start.